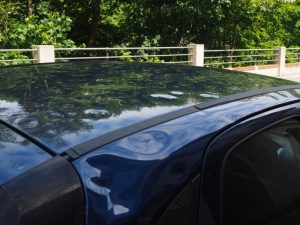 It goes without saying that no one likes to wake up in the morning and find that their car has endured hail damage. However, you shouldn't have to live with the unsightly dents on your car for long; Quality Paintless Dent Removal can come to you, which makes the process of repairing hail damage an easy one. If you've discovered hail damage on your vehicle, keep reading for the steps you should take.
Report it to your insurance company
As with all cases of vehicle damage, your insurance company should be contacted as soon as possible. You may be directed to their favorite body shop, but our shop does work with all insurance companies.
Learn about common dent removal techniques
Hail dent removal can be achieved by hammering and then painting your car's sheet metal, or with the process of paintless dent removal. With the latter, tools are applied to the underside of your car in order to avoid damaging the paint's finish. Dent removal by hammering and painting should be saved for especially large dents where paint has already been damaged.
Find a shop that meets your needs
Research auto body shops in Fort Worth, TX that offer hail damage repair. When you visit us for your hail damage repair, you can trust our experienced technicians to finish the job for a competitive rate.